By: Sophie Lemieux, MBA, Adm.A., C.M.C.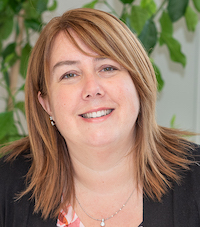 Un message en français suivra.
A couple of weeks ago, Tim Wildman, the Chair of our Board, wrote us an engaging memo that ended with this sentence: "All members can play a role in this effort to promote the CMC designation through their day-to-day conversations with clients and colleagues. Please help us get the word out".
As Vice-Chair of CMC-Canada, I could not be happier to share such alignment with Tim. I strongly believe that we hold the key to our future. We are the best spokespersons to engage and inform current and future members. Our quality of work and our strong ethics are our best assets to describe what is a CMC.
During the last couple of years, your Board members have developed a strong strategic plan with concrete actions. It was done in unison with Certifying Institutes to ensure all parties shared their ideas and had a voice.
Our Executive Director, Donna Ringrose, and her team are more than ever playing a key role in the implementation phase. To paraphrase the CMC-Canada's Essentials of Management Consulting Course: we are in the 4th stage: Implementation!
I am also very excited to see the progress of our National Committees – Growth, Advocacy, Joint Services and Certification – each of which benefits from open, two-way communication with the Certifying Institute councils and the National Board. They are all aligned and have established clear roles and objectives and are measuring results – we can now see and appreciate our achievements!
I am reaching out today to each and everyone of you… CMCs, Fellows, Candidates and Associates to promote your title. We should all be so proud to be a CMC and part of this great community. Let's make sure we talk about it and make a lot of noise! The Business World deserves to know that we are out there bringing all of our clients and businesses to a higher level and helping them move forward.
Have a suggestion for CMC-Canada's marketing team on how we can get the word out about CMC? Please send it to marketing@cmc-canada.ca
--
Un message du Vice-présidente du conseil d'administration
Par: Sophie Lemieux, MBA, Adm.A., C.M.C.
Il y a quelques semaines, notre Président, Tim Wildman, nous a écrit pour nous présenter sa vision et son texte se terminait en disant que tous les membres peuvent jouer un rôle prédominant dans l'effort de promotion du titre C.M.C. dans nos conversations quotidiennes avec nos clients et collègues.
À titre de Vice-présidente, je ne peux pas être plus heureuse de cette demande. Je crois foncièrement que nous détenons la clé du futur de l'organisation. Nous en sommes ses meilleurs porte-paroles et nous devons engager nos membres et informer nos futurs membres. La qualité de notre travail et notre sens élevé d'éthique sont nos atouts les plus précieux pour décrire ce qu'est un C.M.C.
Durant les dernières années, les membres du CA ont développé un plan stratégique aligné sur les besoins de chaque province avec des actions concrètes. Notre Directrice générale, Donna Ringrose, et son équipe jouent un rôle déterminant dans le succès de cette implantation! Oui, pour paraphraser notre propre cours des Fondements du Conseil en management : nous sommes dans la 4e phase, soit celle d'implantation!!!
Je suis vraiment enthousiaste de voir le progrès des comités nationaux : croissance, donneurs d'ordre, services conjoints et certification. Nous opérons avec une communication bidirectionnelle entre les Instituts de certification et CMC-Canada. Ils sont tous alignés avec des objectifs clairs et ils mesurent leurs résultats ce qui fait que nous pouvons maintenant apprécier notre succès!
Je vous demande aujourd'hui, chers collègues C.M.C., F.C.M.C., candidats et affiliés de faire la promotion de votre titre. Soyez fiers d'être un C.M.C., parlez-en, faites-vous connaître! Le monde des affaires a besoin de savoir que nous pouvons aider à amener les entreprises à un autre niveau et les aider à être avant-gardistes!
Vous avez une suggestion pour promouvoir le titre C.M.C.? Contactez l'équipe marketing de CMC-Canada au : marketing@cmc-canada.ca.
--