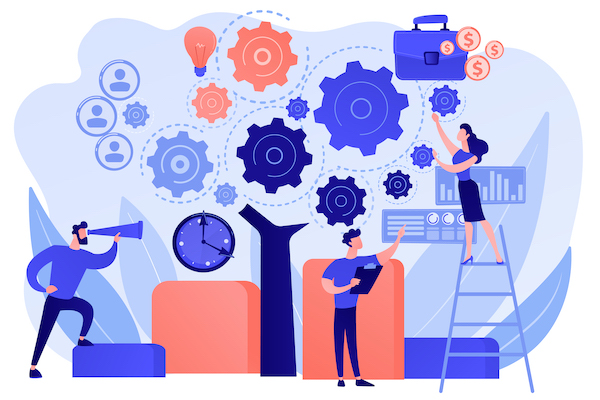 By: Abu Maiyaki
What Is an Operating Model?
Effective operating models put customer value at the heart of their business purpose to solve inherent problems, encourage engagement and customer intimacy. Effective operating models deploy lean end-to end customer journeys, personalized and customized to provide real-time interactions.
Effective operating models make data the intelligent nerve that radically reshapes customer loyalty. Effective operating models continuously innovate, experimenting to address challenges, and seek out new opportunities.
Part I: Introduction
Operating models functioning in a new world of "everything-as-a-service" platforms, cross-industry ecosystems, and ever-changing customer needs are the next leap in business transformation. According to Gartner Research, 66% of CEOs expected a change in their operating models well into 2021. The pace has been accelerated with 50% shifting into gear as a result of the COVID-19 pandemic.
Business leaders view establishing operating models as their top challenge in achieving their transformation imperative. However, similar to the current rate of technology change coupled with a digital native customer base, most leaders are still grappling with the challenges of their present realities.
In today's disruptive economies, organizations are changing so quickly that the old-fashioned way of building operating models, formalizing structures and tacking on roles to a journey map simply cannot keep up. Business leaders need to be in lock step with their customers, to shift-left and be more responsive.
Operating model design and innovation offers a composite set of capabilities and tools to support leaders in making meaningful strategic change. The following can be described as an introduction to this remarkable discipline.
Part 2: Defining an operating model
When an organization decides to change how its people work and engage culturally, we call it change management. When that change is applied to its internal structures and systems, we call it business process improvement.
When that change is applied fundamentally across its systems, structures, people, processes and enabling technologies, we call it business transformation.
How that transformation (or series of change and/ or improvements) is perceived in its ability to create, capture and deliver value to its customers, is called its operating model.
An operating model is a customer-centered view that describes how an organization or its subset works to create and deliver value.
Part 3: Operating model principles
Operating models help decision makers align business strategy to business purpose, unambiguously. It makes the abstraction of strategy tangible and institutes it within the value paradigm. It helps in answering the identity question, differentiating core from the non-core capabilities, allowing organizations to play to their strengths. It provides the basis for work definition and smart investments in aid of those objectives.
Prior to the development of an operating model, leaders must decide on the type of organization, unit or function they are electing to build and lead: exploitative vs. explorative, customer-centric vs. product-led or service-led.
Describing the business in this way supports the definition of design principles integrated as key capabilities aligned to the organization's strategic intent. Principles that communicate the strategy as rules and outline how the business leverages its capabilities in operating as a system.
Part 4: Operating model requirements
As markets strain and fragment, as a new era of customer intimacy is ushered in, organizations are redefining how they operate. The "age of the generals" (General Mills, General Electric, General Motors), mass-production and industrialization has given way to "un"scaling. New operating requirements and motivations include concepts and terms like:
| | | |
| --- | --- | --- |
| technology democratization | the "shorings" i.e., on/ off/ near | remote working arrangements |
| boundaryless org structures | KYC mantras in customer segmentation | frictionless service delivery |
| purposeful brands and/ companies | sustainable sourcing and a focus on core capabilities | applications of internal engagement practices on performance |
Transformative change is employee behavioral change within a larger context. To move employees through the degrees of change acceptance and adoption, leaders must view the organization as a system of networked structures with several nodes and unique cultural identities. These structures operate in a system to amplify individual employee "nodal" exchange and collaboration based on cultural adaptability.
Through iterative design cycles, leaders can identify opportunities for improvement and test the fit of potential new ways of working, a new operating model.
Part 5: In Conclusion
How a business is organized as an ecosystem for sustained value is imperative to its survival. Operating models enable an organization to execute, implement and deliver value. It is strategy in action and an explicit requirement of every business. Relevance today demands both operational agility and customer intimacy, it is not a linear exercise.
There is no set panacea against the environments of change – only guardrails and reference points for leaders to follow.
We are currently in the midst of several accelerants, the pandemic's shadow looming largest over business. There has been no greater opportunity like the present in a generation for organization's to truly ask foundational questions:
Why do we exist as a business?
Whom do you serve?
How do we serve?
More than a cue for leaders, the change in operating model begins with a willingness for internal introspection. Followed by attentiveness to the signals of change. Then, intentionality for that change and the journey ahead.
This watershed moment, like all, will come to pass. Competitive advantages are fleeting – be they mechanization, scaling or digital – all become mainstays with time. If the true purpose of business is to create value irrespective of the times, is there no greater requirement than an operating model that is adaptive, innovative, experiential, integrated, culturally collaborative with shared ambition?
--
About the Author
Abu Maiyaki builds operating models for the future of business; models that enable decision-making, support bold thinking, create space for inventiveness and culture change.

With more than 15+ years of experience leading complex transformation programs, Abu has extensive experience working with senior executives and their management teams to deliver strategic change across a wide range of technologies and industries. Abu has participated in over 10+ enterprise-wide transformations from $36 billion public sector institutions, multi-lateral funding agencies to Fortune 500 clients.

Abu is a member of the Association of Change Management Professionals (ACMP) and the Canadian Association of Management Consultants (CMC). He holds Engineering degrees from the University of Kent, Canterbury (B.Eng) and the University of London, King's College (M.Sc). He is a Design Thinking practitioner, Enterprise Architect (TOGAF), Lean Six Sigma, Change Management (PROSCI-Adkar), Agile Scrum Master and Project Management (PMP) Certified. Learn more.