By: Dustin Serviss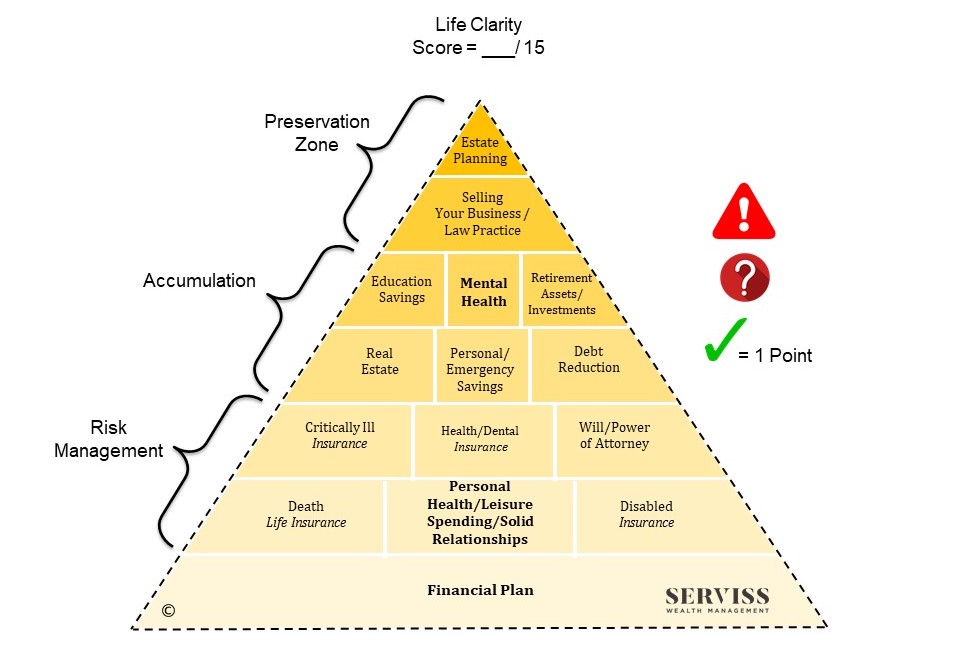 In today's world, the lines between work and home for consultants are becoming blurred as the new realities of how, when, and where we work change rapidly. This has caused many to re-evaluate their priorities and ensure that their personal and professional lives are in balance and positioned well for the future.
The new normal still remains unclear, however, one thing remains constant; a strong personal foundation builds professional success. A practical and proven approach is to develop a pyramid of success to de-risk your life and business and to take the guesswork out of your future.
The Pyramid of Success is an archetype designed specifically to help consultants identify important and interdependent areas of their lives. The seven steps of the pyramid provide structure and balance and lead to increased personal confidence, and professional success. The steps build upon and reinforce each other, and lead to a central apex of vitality and sustainability over time.
The 7 Stages of the Pyramid are as Follows:
Overall Assessment (The Financial Plan)
Risk Management
Personal Health & Wellness
Accumulation and Growth
Mental Health & Awareness
Preservation and Significance Zone
Overall Cohesion
Overall Assessment
The first level of the pyramid is an understanding of your current situation and identifying short and long-term goals. At this step, creating a plan lowers your risk of building a weak personal and professional foundation. This up-front planning will save time in the long-term and instills confidence and a direction for overcoming future obstacles.
Risk Management
The second level of the pyramid is managing risk in your personal and professional life. This includes identifying realistic scenarios that can impact your earnings and your health now and, in the future, including business disruption, injury, illness, or worse – death.
Personal Health and Wellness
The third level of the pyramid is taking care of your health and wellness. A regular and realistic commitment to physical fitness lowers your risk of burnout, anxiety, and stress. Taking care of your health allows you to be able to better focus on your consulting practice, your clients and designing your ideal lifestyle.
Accumulation and Growth
The fourth level of the pyramid is where you accelerate and ascend care of your personal finances. As your life stage transitions from sustainability to success, maximizing discretionary income with quality assets is essential. Reducing debt and adding quality assets are effective strategies for increasing confidence and lowering the risks in your life and business.
Mental Health
The fifth level of the pyramid is identifying, addressing and reducing the mental scars that you have accumulated over time. Keeping your mind in balance mitigates the risk of negative impacts to your family, business and your clients. Self-awareness and effective, regular check ins with your mind, enables you to make better decisions, remove your blind spots, and de-risk your life and your business. These intentional check in allows you to process and neutralize negative thought patterns quickly.
Preservation and Significance
The sixth level of the pyramid is preserving what you have built. You are approaching the apex, and high stakes life decisions are looming. What are you going to do with your business? Are you emotionally ready to sell? How do you address this when it is your own and primary source of income?
Gaining clarity on these questions, and sharing potential scenarios, knowledge with your family, business colleagues and potential successors is critical.
Overall Cohesion
The seventh level of the pyramid is bringing all of the steps together in simple and understandable way. If you have taken the proper steps, respected the process, established a plan and communicated it to the key people in your personal and professional life, you will have de-risked your life and business and have a significantly better chance at reaching your goals.

How do you want to be remembered? Taking time now will save you time later and give you an ability to leave a more impactful legacy.
Action Steps:
Print the above Pyramid image
Mark a check mark on all the areas you have taken care of already… e.g. if you have life insurance check it off
If you don't know if you have something, put a question mark and go find the details,. Ask your Financial Professional for the information or go dig it out of your filing cabinet.
If you know you don't have a plan for something, then put an exclamation mark.
Now you know where you need to focus – the exclamation mark!
In four minutes, you'll have mapped out your priority list and can now clearly see where you need to focus right now in your personal financial and risk plan.
If you have any questions or would like a printable version of the Pyramid, please don't hesitate to contact me (coordinates below).
--
About the Author
Dustin Serviss is a Partner at Serviss Wealth Management. He is also a Business Risk Advisor & Cash Flow Coach with Catalyst Strategies Consulting. He has a passion for helping clients live more of their life NOW yet, being responsible for their future. He lives in Kelowna BC and is a student of his own teachings spending as much time as possible snowmobiling and honing his bush skills in the backcountry.
Dustin has used his industry credentials combined with his creative side to build a wealth coaching business that serves his clients and his own family pursuits. Winning numerous awards including two time Top 40 Under 40 winner, 2019 Micro Business of the year, 2018 Runner up Micro Business of the year doesn't take away from Dustin's humbleness and straightforward approach to solving problems for his clients.
To learn more, visit www.servisswealth.com or connect with Dustin on LinkedIn or Facebook.