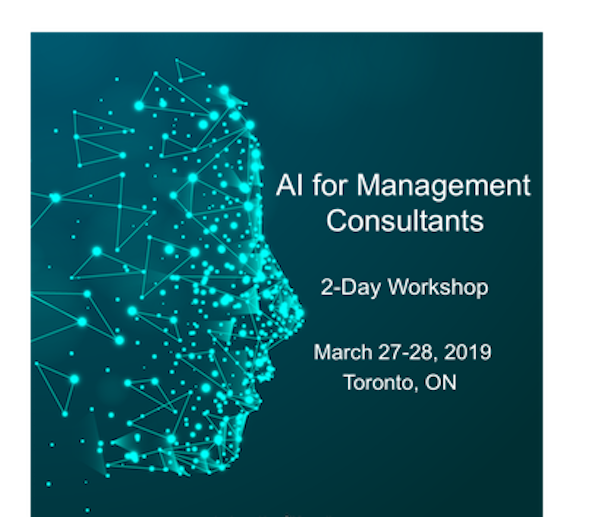 Artificial Intelligence, or AI, seems to be everywhere. In the media and in our everyday activities, from choosing a movie, to unlocking your phone, to weaving your way through traffic. As a consultant, how do you navigate the volumes of content for what's meaningful to you? Here is a start:
Our 5 things you need to know about AI going into 2019
1) The World Economic Forum calls AI "the software engine that drives the Fourth Industrial Revolution". How big is that impact on the revolution? According to Gartner, global business value derived from artificial intelligence totalled approximately $1.2 trillion in 2018 (70% greater than 2017) and PwC recently forecast that value to be $15.7 trillion by 2030. So, it's highly likely your clients will be involved in AI in some way in 2019 and beyond.    
2) Who's leading in the adoption of AI? In terms of countries it's China by far. A leading AI expert, Kai-Fu Lee, argues that "now [China] is actually ahead of the U.S. in AI implementation," as well as level of investment and company value in computer vision, speech recognition, and drones. And in terms of industries, media and entertainment, telecoms, automotive, retail and the once staid financial services are leading the adoption of AI. So, watch for their AI announcements in 2019 for an idea of where AI is going, especially how they are leveraging data into competitive value. 
3) Do I need to be a coder to integrate AI into my consulting practice? A definitive NO. What's important for consultants is to understand the use cases of AI – your own AIQ or AI quotient. Knowing what tools are available, how they can be applied to both your practice and that of your clients is infinitely more important for a consultant. Leave the programming to the data experts; listen to your clients' needs and align the AI offerings to their needs. Business leaders continue to struggle with how to implement AI in their organizations. That's where consultants can help.
4) Separating the hype from the reality. AI is a relatively immature technology, which according to Gartner is predominantly in the early stages of what they refer to as the Gartner Hype Cycle. So, talk to colleagues, read software and vendor reviews, and test in small ways. The promise of AI is massive. The reality of AI is it's in the cradle stage of life. And there are challenges including the "black box" nature of algorithms, privacy, and ethics. And there are examples of bias being built into algorithms (like only recruiting men), and where datasets don't really represent the target population. As with any product or service purchase, buyer beware. 
5)  CMC-Canada recognizes the importance and potential of Artificial Intelligence in the world of business, in particular for the consulting industry, and will be offering a unique, compelling two-day workshop specially designed for consultants. 

--
About the Author
Brian Lenahan is CEO of Aquitaine Innovation Advisors, an artificial intelligence strategy consulting firm. For 22 years, Brian served as an executive, strategist, and large operations teams leader in the US, Canada, and India in a Top 10 North American financial institution. He provides AI leadership strategies for organizations like the Canadian Association of Management Consultants, SMB's, Regional Innovation Centres, and University Student AI Societies, amongst others. Brian is Chief Strategy Officer & CFO of Rainmaker AI, a graduate of the MIT's Artificial Intelligence Strategy program and holds graduate academic degrees in strategy and innovation from both US and Canadian Universities. Brian is passionate about helping to fill the AI skills gap in Canada, and his latest book is called "Artificial Intelligence: Foundations for Business Leaders & Consultants".