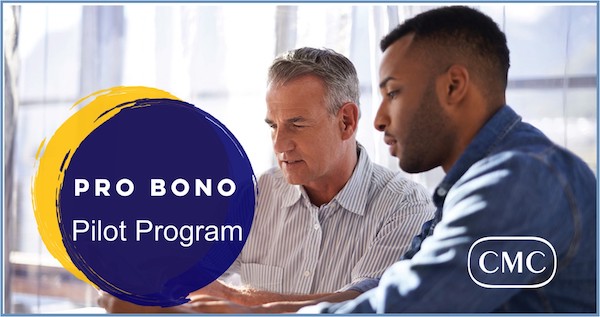 By: Greg Graham
Note: The new CMC Pro Bono pilot program provides no-charge management consulting services to not-for-profit (NFP) organizations.
Due to the pandemic, NFPs are facing greater challenges than ever. The program is currently soliciting both clients and volunteers. How can you get involved? Email probono@cmc-ontario.ca to:
Volunteer;
Refer a potential not-for-profit client; or,
Access the Pro Bono Community to keep informed.
--
When we first started talking about creating a pro bono pilot program in eastern Ontario, we had a few considerations.
The goal is to assist established not-for-profits that already benefit our local communities
We want our efforts to make an impact. Instead of starting a new charity or not-for-profit, we thought it made sense to partner with existing NFPs that already have things figured out, and create public benefit now. We think that providing management consulting services at no cost will empower them to do even more.
The pro bono program should NOT reduce the management consulting market
Services are to be provided to those who face barriers to consuming professional management consulting services at market rates; mainly, an inability to seek out professional advisors and pay. Since services aren't provided to those who could be paying clients, we aren't decreasing the addressable market.
It's all about reducing the friction between those who need help, and those who wish to help.
Some of the examples we found when researching pro bono programs include:
CPAs preparing tax returns for seniors and the elderly;

Lawyers acting as temporary guardians for minors without parents involved in legal proceedings;

Psychologists counselling troubled youth; and,

Dentists providing emergency dental services for the homeless.
We have no intention of converting anyone's paying clients into pro bono freebies.
There shouldn't be any liability for CMC volunteers or the association
Similar to the Industrial Research Assistance Program's Management Advisory Program (IRAP-MAS) operated by CMC-Canada on behalf of the National Research Council, we developed a pro bono client agreement with all the liability-limiting language our lawyer could think of.
And also similar to the IRAP-MAS program, there is a CMC volunteer agreement. Nothing unusual here.
An important point is that CMC volunteers don't have to define a detailed scope of work and deliverables. Upon the advice of experts, the agreement states that only time is provided, not defined deliverables.
CMC volunteers must perform a Conflict of Interest analysis before engaging a pro bono client, but that is routine business practice as required by the Uniform Code of Professional Conduct.
Just in case you are curious, our affinity insurance carrier BMS says that their Errors & Omissions insurance policies will cover your pro bono activities as well as your paid engagements.
It shouldn't be a burden to our members
Participation in the program is voluntary, not mandated. We recommend CMCs work on one project per year, and only up to 20 hours. That means providing advice, oversight, coaching, etc. -- not an "extra pair of hands".
For example, if a client needs help with strategic planning, maybe you help them plan how to do the planning, and review the results. Or maybe you facilitate a planning meeting. You don't research competitors, you don't analyse data, and you don't write up the strategic plan. You help the client do these things in a proper fashion.
We picked 20 hours since that is 1% of a 2,000 hour per year full-time workload. Industries with mandatory pro bono service often seem to pick 20 hours per year.
There must be eligibility criteria to ensure we help those who can make a real difference
The pilot program only accepts applications from established public benefit organizations incorporated under either federal legislation or the Ontario Not-For-Profit Act.

NFPs apply for help with a specific defined initiative, and must provide a senior person to act as your client contact. We hope for no scope creep and no uncommitted clients.
We also look for their ability (sufficient size and scope of operations) to make a significant impact and absorb change.

Your no-charge pro bono efforts won't take away paying work from other CMCs. And we don't want to waste anyone's time with clients who won't engage effectively or take action.
We need to walk before we run
Like any new venture, we need to figure out how to do this effectively. That's why it's a pilot for now.
After our first pro bono engagement has been completed, we will hold a post-mortem for learnings and, likely make some changes.
After we do half-a-dozen to a dozen projects, we will evaluate the pilot program and prepare recommendations for CMC Ontario. At that time, a deliberate decision will be made to either expand or discontinue the program.
We still want to encourage all CMC-Canada members to volunteer in whatever way works for them.
Serving the public good is something that CMCs believe in. And they walk the talk. Three-quarters of respondents to our survey of EOC membership this past summer say they do volunteer or pro bono work, at least once per year, so please continue to make a contribution in whatever way you prefer.
We intend to live up to these values in delivering the EOC Pro Bono Pilot Program.
If you have any comments, please feel free to message me via the CMC-Canada website, or email me at probono@cmc-ontario.ca
--
About the Author - Greg Graham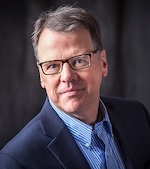 Greg Graham is a seasoned marketing professional and the founder of Market Metrics Inc., a boutique consultancy that helps knowledge-based businesses with strategy, planning and innovation. 
Prior to founding Market Metrics, Greg held increasingly-responsible positions in engineering, marketing, and business planning at firms ranging from start-ups to Fortune 500 companies, including Hewlett-Packard, Nortel Networks, Taylor Industrial Software (acquired by General Electric), TELUS, and Ubiquity Software (acquired by Avaya). Learn more